This past May, the Third Horizon Strategies (THS) team from nine states – California, Colorado, Connecticut, Illinois, Michigan, Minnesota, New Hampshire, Utah, and Virginia – convened at the firm's headquarters in Chicago for its annual retreat. The retreat's focus was to strategize how the firm can continue to impact our clients and community partners. In that spirit, our "mission-obsessed" team opted to do some good in person, choosing to volunteer with the Greater Chicago Food Depository, a nonprofit organization that works to combat hunger and food insecurity in the Chicago metropolitan area.
One in five households in Chicago experiences food insecurity. The Chicago Food Depository defines food insecurity as "the set of circumstances that prevent your access to food." Like many other major cities in the United States, in Chicago, "food deserts" exist primarily on the south and west sides of the city, where communities have extremely limited access to affordable and nutritious food. A lack of full-service grocery stores, supermarkets, or other sources of fresh produce and healthy food options in these areas has been tied to worse health outcomes.  Another contributing factor is the current economic situation. Not only are groceries more expensive, but many individuals and families struggle to afford an adequate and nutritious diet due to low wages, unemployment, and other economic challenges.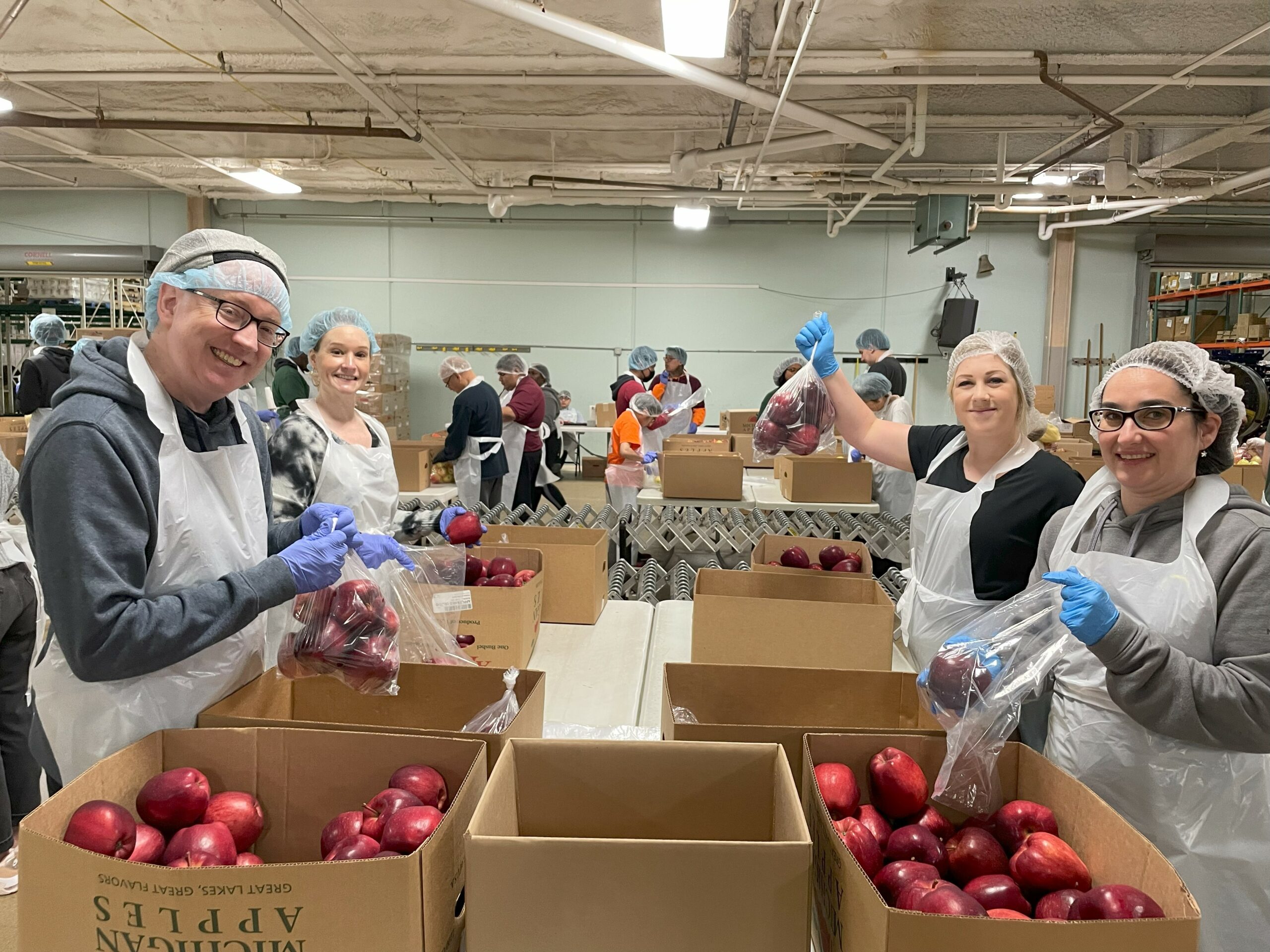 Tym Rourke (lower left), with Meghan Phillipp (upper left), Jessica Casebolt (upper right), and Sara Howe (lower right)
"With food insecurity continuing to be a challenge, it's impressive to see operations like the Greater Chicago Food Depository leveraging volunteers to efficiently, smartly, and meaningfully be part of the solution," says Tym Rourke, Senior Director. "They made the process of volunteering so user friendly, while ensuring we all understood the value our efforts were bringing to kids and families looking for healthy, affordable foods."
Since its establishment, the Chicago Food Depository has significantly impacted the communities they serve by addressing the issue of hunger and supporting individuals and families in need. Their comprehensive approach to food distribution, advocacy, education, and community engagement significantly impacts the lives of individuals and families facing hunger challenges.
During the firm's visit to the Chicago Food Depository's distribution on the southwest side of the city, the team contributed to the preparation of:
• 3,948 pounds of pasta
• 5,940 pounds of bread
• 14,896 pounds of apples
• 24,784 total pounds of food
• 20,653 meals (217 meals per volunteer!)
"Being born and raised in Chicago, I regularly see the stark disparities that exist within our city –  Lincoln Park or West Loop neighborhoods have grocery stores like Whole Foods, Trader Joe's, and Mariano's, while there are zero chain grocery stores in South and West side neighborhoods," said Heba Alsheikh, Senior Analyst. "Volunteering at the Greater Chicago Food Depository was such a rewarding experience that truly made me feel like I was making an impact in my city. The process itself represented everything that community-building should be: every individual playing a specific role that, when put all together, makes the community better for all."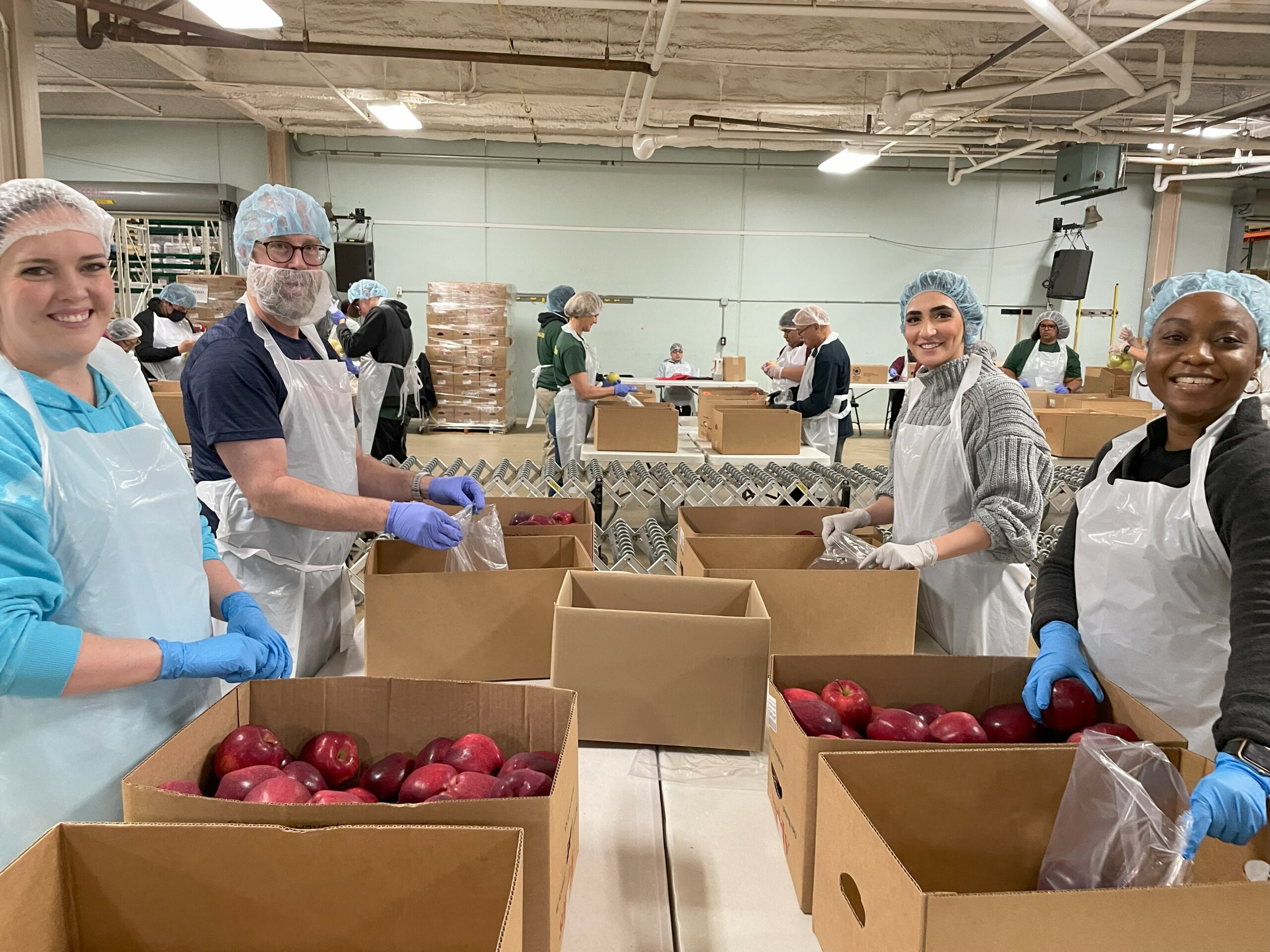 Heba Alsheikh (upper right), Bami Odusote (lower right), Dacia Smith (lower left), and Eric Bailly (upper left)
The THS team was just one of many individuals and corporate groups that showed up to support the packing and distribution of food that will benefit hundreds of local Chicagoans in need. THS is proud of the impact the firm made over a few hours and remain humbly dedicated to advancing ideas and opportunities to influence systems and policy-level changes that can address the socioeconomic and physical health burdens that food insecurity contributes to in our local communities.