On March 11, 2022, the U.S. Department of Health and Human Services (HHS) Office of the Inspector General (OIG) authored a new advisory legal opinion that clears the way for increased use of technology-delivered contingency management – an evidenced-based service that provides motivational incentives in the form of gift cards to people with substance use disorder (SUD) when they achieve recovery based goals. Under the ruling, DynamiCare Health clients can earn as much as $599 annually, a sharp increase from the $75 gift cap most state Medicaid programs had previously observed, which many experts considered too low to be effective. While contingency management is considered effective by a robust evidence base, this new advisory opinion can become a key lever for greater expansion of the practice and adoption.
Contingency management aims to "reverse" or override the neurobiological basis of addiction, in which substances rewire the brain's reward system after prolonged use. Contingency management appears to be among the most effective psychosocial treatments across SUDs, especially when combined with medications for opioid use disorder (OUD). A 2018 comparative study found that patients with cocaine and amphetamine addiction were more likely to remain abstinent by utilizing an intervention with contingency management than without (See chart below).  Aside from proven efficacy, another 2018 systematic review on contingency management studies noted that there were no adverse events related to contingency management when studying the intervention making this tool not only effective but safe.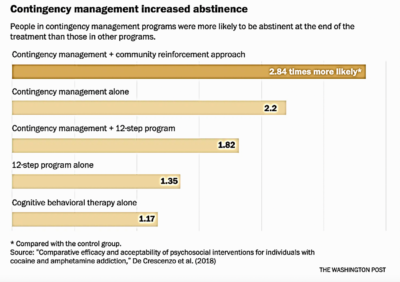 Despite contingency management's efficacy, the intervention is rarely available as part of community-based treatment due to murky interpretation of federal and state regulations that suggest government-funded health programs cannot provide financial incentives to beneficiaries and can often be set up in ways that trigger anti-kickback concerns. While OIG's latest opinion helps clarify certain regulatory concerns, there remain complex obstacles policymakers, providers, and patients face when engaging in this practice. These barriers are not just implementation and policy-based but may be rooted in stigma as well.
Want more daily health intelligence from Third Horizon Strategies?  Sign up for Tea Leaves – a free daily newsletter capturing a rundown of the most important health industry activity!
The Centers for Medicare & Medicaid Services (CMS) does not consider contingency management a required federal Medicaid benefit and must be covered under additional authority. Several states such as California, Montana, and West Virginia are writing contingency management coverage into their 1115 Medicaid waivers. For instance, California's Department of Health Care Services (DHCS) will pilot Medi-Cal coverage of contingency management in select eligible counties beginning on July 1, 2022, and running through March 2024. The pilot will allow eligible Medi-Cal beneficiaries to participate in a 24-week outpatient contingency management program in which they could earn motivational incentives in the form of low-denomination gift cards, with a total value determined for each treatment episode. After the program, participants will receive six or more months of additional recovery support services.
Providers have found it challenging to implement and operationalize contingency management programs due to their administrational complexities. To address these challenges, digital health solutions have entered the market with specific expertise to manage the intervention. For example, WEconnect Health facilitates contingency management and connects users with peer recovery coaches who collaborate with users to build recovery care plans. In a 2019 study, WEconnect Health partnered with a Pennsylvania Medicaid plan that reduced emergency department visits and increased primary care physician visits and medication-assisted treatment (MAT) adherence for individuals against a control population using their geo-tracking mobile app.
Stigma remains one of the greatest barriers to individuals seeking and accessing addiction treatment such as contingency management. Much of this stigma is driven by a lack of education and the perpetuation of negative stereotypes about SUDs accompanied by discriminatory policies and practices. This stigma can also be prevalent among health care professionals. A 2021 study published in Translational Issues in Psychological Science reviewed transcripts of provider interviews about using contingency management with their patients in opioid treatment programs. The review uncovered four major themes: distrust in patients, infantilizing views about patients, belief that patients do not deserve prizes, and recognition of patient self-stigma and community-based stigma. The transcript also found multiple instances of health professionals using stigmatizing languages such as "drug abuser," "addict," and referencing urine analysis results as "clean or dirty."
The OIG opinion issued in March and the increase in the allowance for contingency management financial incentives significantly advances the opportunity to scale the intervention. However, there are still barriers that need to be addressed to allow individuals access. States and health plans should take advantage of this new advisory opinion and the adoption of new digital health solutions to facilitate this highly effective treatment that can save lives and elongate recovery outcomes.
To learn more about how contingency management and other mobile engagement tools can support addiction treatment and recovery check out the Alliance for Addiction Payment Reform's publication on Mobile Engagement and Retention Technology for Substance Use Disorder.