Meghan Phillipp has over ten years of experience developing programs and events and building sustainable relationships both in nonprofit and startup settings. Although her path to health care may not have been perfectly linear, she has repeatedly found herself saying yes to opportunities and landing right where she needed to be. Prior to Third Horizon Strategies (THS), she served as the corporate relations and special events manager at CommunityHealth. While there, she was introduced to THS CEO and Founder David Smith and became a member of the Health Care Council of Chicago (HC3). Meghan joined THS as the inaugural executive director of HC3 in August 2019 and daily channels her passion for health, curiosity, community, and connection to make Chicago a healthier place.
Health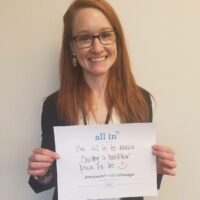 Meghan leaned into her career in health care at CommunityHealth – the nation's largest free health clinic serving the uninsured in Chicago. She describes her experience with the organization as "eye-opening both personally and professionally" as it helped her understand the complexities of health care, especially for under-resourced communities and individuals. She remains deeply committed to learning about the health care ecosystem and takes every opportunity to soak up knowledge, experience, and wisdom from colleagues and community partners. She shared that one of her favorite aspects of working at THS is that she consistently has the opportunity to interact with and learn more from intelligent and thoughtful people from diverse backgrounds. When asked what she would change about the health care system, Meghan said she would de-couple the components that make the system so complex and empower providers to be patient champions and patients to own their health care journey. "Barriers exist on both sides," she said. "We need to rethink, retool, and reinvest in the system to support the whole person –  including their experience accessing care, socioeconomic factors, and so on – to truly influence realistic solutions for better outcomes."
Curiosity
Meghan shared that she strives to go into situations with an open mind and humility. Her personal mantra is "If we try it and it doesn't work, we make a change." Being willing to pivot and let go of one's biases in a situation allows us to evolve and grow, and not just allow for systems to remain antiquated and never change.  She has applied that same perspective in her role at THS.
When Meghan first joined the firm and started managing HC3, she did a lot of research around social enterprises, and different business and organizational models that drive impact. During her self-study to advance HC3's goals, she attended an event on impact investment at Loyola's Baumhart Center where several of the presenters were part of a new program in the school of business focused on the cross-section of "profit meets purpose." Meghan had considered getting a master's degree for a few years and assumed based on her experiences she would likely pursue a nonprofit management program. Hearing from local business leaders about their unique approaches to business through a social lens and learning more from the Baumhart Scholars' insights piqued Meghan's curiosity. In the spring of 2020, she was accepted into the Baumhart Scholars program and recently completed her MBA from Loyola University of Chicago's Quinlan School of Business.
Community
Meghan is committed to building healthy communities and establishing strong connections to them. As the executive director of
HC3, she has developed numerous programs to help members and partners work with each other and the community. As the organization continues to evolve and returns to more in-person interactions, she is hopeful to find new opportunities for HC3 to broaden its reach and collaboration within the health care industry, as well as other industries.
Meghan also recently accepted a new role as THS' vice president of community impact. In this role, she will specifically help the firm navigate its corporate and social responsibility and develop metrics to measure the impact of its work. One of her biggest goals is to help THS establish a strategic and sustainable path forward that ensures the firm's work will continue to align with its mission as it grows.
Connection
Meghan's biggest motivator is people. "I get energy from people – from helping people, seeing them happy, learning from them," she said. "It is what drives me in my position and keeps me engaged and excited about what's possible." She shared that she loves that her position exposes her to all the wonderful things that people are doing, and that it restores her faith in humanity. As HC3 has become more integrated into THS, Meghan has enjoyed having more opportunities to collaborate and brainstorm with colleagues and have greater visibility into all of the other issues the firm addresses. When she initially accepted this role, the goal was for HC3 to be its own entity disassociated from its founding partners. Sitting in dual roles with THS and HC3 over the past three years, Meghan has been an integral part of helping THS lay the groundwork for its vision to advance health and well-being, so it was a natural path forward to integrate and make HC3 part of THS' core activities. She says, "Now it feels like it is where it is always was meant to be."