In observation of National Recovery Month, Third Horizon Strategies convened a virtual Capitol Hill briefing on September 21, 2021 to discuss President Biden's FY2022 request for a 10-percent Recovery Support Service Set-Aside in the Federal Substance Abuse Prevention and Treatment Block Grant with lawmakers and administration officials. You can view a recording of the event below:
Over 200 individuals from across the country attended the briefing, which featured a robust discussion about the value of recovery support services in communities and opportunities to expand and scale these promising practices that can help save lives.  The following individuals provided remarks:
United States Senator Lisa Murkowski (AK)
United States Senator Chris Murphy (CT)
Vice Admiral Vivek H. Murthy, MD, MBA, U.S. Surgeon General, U.S. Department of Health and Human Services
Miriam Delphin-Rittmon, Ph.D., Assistant Secretary for Mental Health and Substance Use, U.S. Department of Health and Human Services
The Honorable Paul Tonko, United States Representative (NY-20)
The Honorable Anthony Gonzalez, United States Representative (OH-16)
Carol McDaid, Principal, Capitol Decisions Inc.(moderator)
Greg Williams, Manager, The Alliance for Addiction Payment Reform
David Whiters, Ph.D., Founding Member, African American Federation of Recovery Organizations (AAFRO)
Rebecca Allen, Director of Recovery Advocacy, Connecticut Community for Addiction Recovery (CCAR)
Kevin Shuler, Emergency Department Recovery Coach Manager, Connecticut Community for Addiction Recovery (CCAR)
During the event, Third Horizon Strategies released "Enhancing Community Recover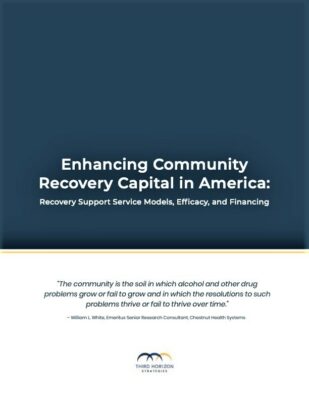 y Capital in America: Recovery Support Service Models, Efficacy, and Financing" – a white paper examining current investments in recovery support services. The paper provides an overview of federal programs and funding for recovery support services, current efforts in numerous areas – recovery housing, recovery community centers, peer recovery support services, education-based recovery services, and culturally responsive recovery supports – and opportunities for expansion and scaling.
Download the paper here.
To learn more about how Third Horizon Strategies can support communities and organizations to design improved policies, systems, and incentives for producing long-term recovery outcomes, please reach out to a member of our Mental Health and Addiction team.